Animal Care Services
Camp Animal Care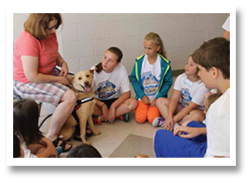 Is your child an animal lover? Do they dream of one day being a veterinarian, want to make a difference in the life of a shelter animal or make their community a better place through animal service? If so, Camp Animal Care is for you! We offer your child a unique camp experience, giving them a hands on opportunity to explore the world of animals including veterinary/medical care, animal enrichment for happy, well- adjusted pets and leadership skills to make their community a better place through service to sheltered animals.
Registration includes a t-shirt for campers, a bag for supplies and lots of fun activities on-site at Animal Care.
When: June 12-159am - 3pmAges: 8-14
Fee: $300 per camper
This educational and fun camp is built to give kids a "birds-eye" view of the fast paced world of veterinary medicine. Kids will learn about the importance of preventative medicine, meet some or our vets and medical technicians and have fun with crafts and projects related to veterinary care. Limit 14 campers.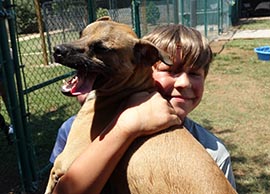 When: June 19-229am - 3pmAges: 10-15
Fee: $300 per camper
Animal Heroes camp is designed to help kids learn the value of helping their community be more conscious and aware of the needs of our community animals. They will learn about the importance of fostering animals, helping lost animals find home and other ways to help their local shelters through volunteerism and fundraising. They will even have the opportunity to earn service hours for school and clubs during camp. Limit 14 campers.
Happy Campers, Happy Pets!
CAMP FULL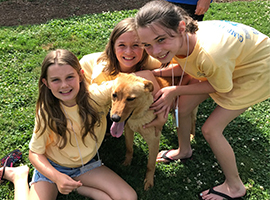 When: June 26-299am - 3pmAges: 8-12
Fee: $300 per camper
This camp centers around the importance of enrichment for shelter animal's physical and mental well- being. Campers will have fun doing all sorts of activities designed to help the animals feel less stress in their environment. Activities such as treat making, toy making, even reading enrichment is sure to let our shelter animals know that we want to do all we can to help them find the loving homes they deserve! Limit 14 campers.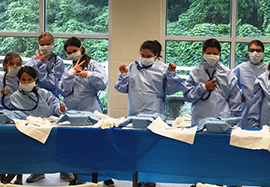 When: July 10-139am - 3pmAges: 8-14
Fee: $300 per camper
Did your child love Vet Camp 1 and beg for more? We've partnered with Greenville Technical College, Animal Science Department to create a camp that offers even more programs on the special medical needs of dogs and cats. While we recommend that campers attend Vet Camp 1 first, we can accommodate campers that have date conflicts and need to do this camp first. Limit 14 Campers.
---
Camp Counselors
We are accepting Camp Counselors aged 16 and up. If you would like to help with a camp, please contact pchurch@greenvillecounty.org. Let me know what camp(s) you are interested in. We have openings for 2 counselors per camp and will be happy to provide service hours for your service.
Scholarship Opportunity
Our Partners in Animal Care have generously donated 4 camp scholarships – one for each camp. To apply – complete the Camp Animal Care Scholarship application and return to pchurch@greenvillecounty.org. Please note that the registration deadline is April 24th and scholarship winners will be announced on May 1st.
---
*Because of food related allergies, we are asking that children bring a bag lunch and drink.
We will provide water for the kids!
Each camp will have a 5 camper minimum.
If not met, all monies collected for that camp will be refunded, otherwise camp fees are non-refundable.
If you have any questions, please contact Paula Church at:
864.467.3986 or pchurch@greenvillecounty.org
Encouraging Compassion And Respect For Animals
Ask Animal Care
Ask Animal Care