Animal Care Services
Camp Animal Care
2019 Camp Animal Care Kids
Summer is coming to a close and our 2019 camps have also come to a close. Thanks for an awesome camp season! For those of you that attended, we look forward to seeing you back in 2020! If your child was not able to attend this year, please look over the camps below that were offered and consider signing them up for 2020.

Information for our 2020 camps will be available on this site in the spring!
2019 Camp Information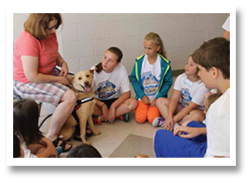 Is your child an animal lover? Do they dream of being a vet, a dog trainer or want to get creative and help by using art to get pets adopted? If so, Camp Animal Care is for you! We offer your child a unique camp experience, giving them hands on opportunities to explore the world of animals including veterinary/medical care, basic dog training and a look into using art to market and promote shelter pets to find them loving homes.
Included in the registration fee will be snacks, a t-shirt for Campers and lots of fun activities on-site at Animal Care.
Dog Training Camp
When: June 10-139am - 3pmAges: 12-16
Fee: $300 per camper
Is your camper a true dog lover with a passion for helping animals? This is a chance for them be one of the first campers to attend our new Dog Training Camp designed by our staff dog trainer, Sean Henderickson. This camp will teach kids to understand how dogs think and teaches dogs to want to do good behaviors so they can build happy, healthy canine family members. As an added bonus, this camp provides great enrichment for our shelter dogs while building valuable rewards training for successful pets, a skill that will last a lifetime! Space is limited for this camp so sign up quickly to assure your spot!
Vet Camp 1
When: June 17-209am - 3pmAges: 8-11
When: June 24-279am - 3pmAges: 12-16
Fee: $300 per camper
Kids love animals and it's evident by the large numbers expressing interest in being veterinarians. This camp is built in partnership with Greenville Technical College and Animal Care staff, to give kids a "birds-eye" view of the fast paced world of veterinary medicine. Kids will learn about the importance of preventative medicine, meet some of our vets and medical technician staff, and have fun with crafts and projects related to veterinary care. Campers will have a great time building friendships with other animal loving campers and getting to know the awesome pets at Animal Care. Camp curriculums are based on Greenville County Schools State Standards but the kids have so much fun, they don't realize they are learning!
Camp Animal Care Mini-Camp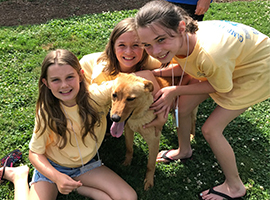 When: July 10-129am - 1pmAges: 6-7
Fee: $175 per camper
Young kids love animals too and we did not want to leave them out! We have created a camp to nurture compassion by developing a respect for animals. Kids will learn pet safety and general responsible pet care. They will play games, enjoy crafts and maybe even receive an "adoptable pet" of their own (of the stuffed variety) all to learn about adoptable pets and what it takes to be a pet's human.
Animals in Art Camp
When: July 15-189am - 3pmAges: 12-16
When: Aug. 5-89am - 3pmAges: 8-11
Fee: $300 per camper
Shelter animals rock, and we want the world to know it! Art is a great way to raise awareness and funds for the animals that need it the most, so we have partnered with the Travelers Rest Artists Alliance to create a fun-filled, animal interactive camp for kids. Each day will feature an art project for kids at all levels of artistic talent plus lessons about responsible pet care. At the end of the week, campers will be able to present their work at a special showing of their camp creations.
Vet Camp 2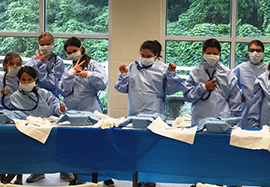 When: July 22-259am - 3pmAges: 8-11
When: July 29- Aug. 19am - 3pmAges: 12-16
Fee: $300 per camper
Vet Camp 1 has been so popular; requests kept coming for an extended version… so here it is! We have created a camp that picks up where Vet Camp 1 leaves off with additional programs on the special medical needs of dogs and cats. While we recommend that campers attend Vet Camp 1 first, we can accommodate campers that have date restrictions. We are appreciative of our partnership with Greenville Technical College, Animal Science Department for their help in developing this interesting and fun camp!
*Because of food related allergies, we are asking that children bring a bag lunch and drink. We will provide water for the kids!
Each camp will have a 5 camper minimum. If not met, all monies collected for that camp will be refunded.
To get involved as a Camp Counselor (must be age 16+), enroll your child, or if you have any questions, please contact Paula Church at: 467.3986 or pchurch@greenvillecounty.org
Encouraging Compassion And Respect For Animals