Animal Care Services
Camp Animal Care
Due to safety concerns surrounding COVID-19 and the nature of Camp Animal Care, Summer 2020 camps are cancelled. We look forward to offering camp in 2021. If you previously enrolled for Summer 2020 and have questions concerning your refund, contact Paula Church at pchurch@greenvillecounty.org.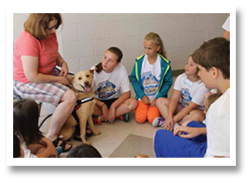 Is your child an animal lover? Do they dream of being a vet, a dog trainer or want to get creative and help by using art to get pets adopted? If so, Camp Animal Care is for you! We offer your child a unique camp experience, giving them hands on opportunities to explore the world of animals including veterinary/medical care, basic dog training and a look into using art to market and promote shelter pets to find them loving homes.
Included in the registration fee will be snacks, a t-shirt for Campers and lots of fun activities on-site at Animal Care.
Dog Training Camp
When: June 8-119am - 3pmAges: 12-16
Fee: $300 per camper
The kids loved it last year and it's back! Dog Training Camp is designed by our staff dog trainer, Sean Henrickson and will teach kids to understand how dogs think and teaches dogs to want to do good behaviors so they can build happy, healthy canine family members. As an added bonus, this camp provides great enrichment for our shelter dogs while building valuable rewards training for successful pets, a skill that will last a lifetime!
Vet Camp 1
When: June 15-189am - 3pmAges: 8-11
When: June 22-259am - 3pmAges: 12-16
(this camp is adjusted for the older campers)
When: July 27-309am - 3pmAges: 8-11
(because of the popularity of this camp we have added another date)
Fee: $300 per camper
This educational camp is built in partnership with Greenville Technical College and Animal Care staff, to give kids a "birds-eye" view of the fast paced world of veterinary medicine. Kids will learn about the importance of preventative medicine, meet some of our vets and medical technician staff, and have fun with crafts and projects related to veterinary care.
Camp Adopt-A-Pet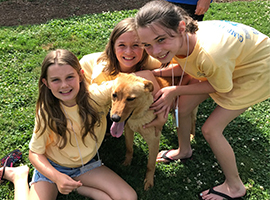 When: June 29-July 19am - 1pmAges: 5-7
Fee: $195 per camper
Campers will actually adopt a pet (of the stuffed variety) and learn the dollars and sense involved in caring for their new pet! Using pretend money, kids will adopt their forever pet, purchase supplies and medical care services while learning what it takes to be a responsible pet owner. Kids will keep their adopted pet as a memory of their first shelter pet adoption.
Vet Camp 2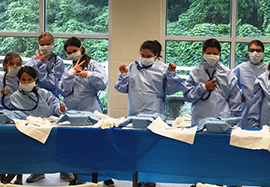 When: July 6-99am - 3pmAges: 8-11
When: July 13-169am - 3pmAges: 12-16
(This camp is adjusted for the older campers)
Fee: $300 per camper
Did your child love Vet Camp 1 and beg for more? We've partnered with Greenville Technical College, Animal Science Department to create a camp that offers even more programs on the special medical needs of dogs and cats. While we recommend that campers attend Vet Camp 1 first, we can accommodate campers that have date conflicts and need to do this camp first.
Art For Animals
When: July 20-239am - 3pmAges: 10-16
Fee: $300 per camper
Shelter animal's rock and we want the world to know it! Art is a great way to raise awareness of shelter animals and help animals that need it the most. We have created a fun-filled, highly animal interactive camp for animal loving kids. We'll do Glamour photos, create pet portraits and puppy paw art... all while learning about responsible pet care and how to safely handle animals. This camp will feature art projects for kids of all levels of artistic talent!
---
Junior Camp Leaders
When: Any or all campsAges: 15 and upFee: $25 per camp
Junior Camp leaders are an invaluable part of our program and carry a lot of responsibility. This opportunity is designed to foster skills in areas such as leadership, animal handling, personal accountability and communication. Junior Leaders are a volunteer extension to our staff and are expected to behave with maturity and compassion towards other junior leaders, campers, staff, and of course, the animals they interact with.
---
*Because of food related allergies, we are asking that children bring a bag lunch and drink. We will provide water for the kids!
Each camp will have a 5 camper minimum. If not met, all monies collected for that camp will be refunded.
If you have any questions, please contact Paula Church at:
467.3986 or pchurch@greenvillecounty.org
Encouraging Compassion And Respect For Animals