Animal Care Services
Surrender Your Pet
Surrendering a pet is never an easy decision to make. Once you've decided that there are no other solutions, and have made the decision to find a new home for your pet, there are several options to consider.
1. Ask Your Network For Help
First, notify friends, relatives, neighbors and co-workers that you need to find a new home for your pet. This type of networking can have very positive results.
2. Rehoming Your Pet
As the pet's owner, you have the best chance of finding your pet a new home. By making a determined effort and not surrendering to our shelter, you'll also be creating a future for another animal by leaving a spot open at our shelter.
Ways to rehome your pet on your own: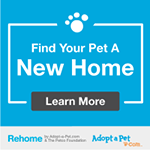 3. Surrendering Your Pet to Greenville County Animal Care
Animal Care is working to build a NO KILL community, but we're not there yet. As Greenville County's only open admissions shelter, our space is almost always at or above capacity. Therefore, we cannot accept walk-ins or drop-offs; pets are admitted by appointment only. If you can no longer care for your pet, have attempted to rehome your pet on your own and would like to discuss the possibilities of surrendering it to Animal Care for adoption, please follow the steps of our admissions process:
To make an appointment, please call 864.467.3950. An Admissions Counselor will conduct a brief phone consultation and collect some information from you about the pet you are looking to surrender.
You will be asked to pay a surrender fee of $75 per pet or $125 for a litter of puppies or kittens up to 4 months of age. This fee is charged to cover our expenses associated with medical and other care your pet will receive while we try to rehome him/her.
Pets that do not meet minimum medical or behavioral expectations may not be eligible for adoption at Greenville County Animal Care. In this situation, we may suggest rehoming your pet elsewhere. If your pet is not safe enough to place in the community (example: displaying animal or people aggression) or your pet will likely have a poor quality of life due to medical illnesses/injuries, we may recommend euthanasia rather than surrendering your pet for adoption.