Animal Care Services
I Lost A Pet
Notice:
Since the shelter is now open by appointment only, please call us at 864-467-3950 to make an appointment to check for your lost pet.
I Lost a Pet
Here's what you should do:
Check in-person at Animal Care to see if your pet was turned in as a lost animal. This is the fastest and best way to identify a lost pet. (Please bring proof of ownership, such as a photograph) You should check back every 2-3 days until you find your pet.
On days when you cannot come in-person to the shelter, search the lost animals list below to see if your pet has been brought in.
File a Lost Pet Report. This will help us keep a look out in case your pet is turned in later.
If your pet has a microchip, call the microchip company to verify that your contact information is current. If you adopted from Animal Care, your microchip company is 24 Hour Pet Watch.
Post flyers in and around the area where the pet was lost. Be sure to include a color picture and detailed information about your pet, including the date and area where he/she went missing.
We also recommend posting and checking on lost pet forums and groups. Here are some popular tools that we suggest:
Please Remember: Lost animals are held here at our facility for 5 days before they may be adopted by a new family. It's important to keep checking back regularly.
If you have further questions, email lostpet@greenvillecounty.org
If you have found an animal, click here.
File a Lost Pet Report
File a Lost Pet Report
Search Lost and Found Database
Finding Rover Search
Search for your pet using facial recognition.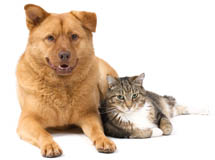 List of Lost Pets Currently at Greenville County Animal Care
Lost pets brought to Animal Care are listed here. If your pet is listed here, bring proof of ownership such as a photo of vaccine records to reclaim your pet.